DECEMBER 2020
Blood Drive - Tribute to First Responders
Held at firehouses and police stations in multiple locations around Iowa
November 14, 2020
2020 "Living Our Lives" Forum on Suicide Awareness & Prevention
Held at firehouses and police stations in multiple locations around Iowa
On average, 20 US soldiers take their lives every day. Veterans, Military personnel and First Responders face severe stress, PTSD and mental anguish in the process of serving their country and communities. This event will serve to raise awareness of this and aid in the detection and prevention of suicide throughout our society.
This event will have inspiring presenters including a Psychologist, a Healthy Living expert, Retrieving Freedom service dog agency, County Sheriff and a US AF Veteran with Prairie Star Residency program. Plan to attend for coping mechanisms, how to spot signs of mental illness and suicide triggers and how & where to get immediate assistance.
This will be a Facebook Live event that you can get to via the link below or by going to our American Brawn Charity Facebook page.
This event is OPEN AND FREE to everyone in the world with a special invitation to our US Military and First Responders. Contact Kent Reed with questions and for a pdf handout following the event: kent@naglesigns.com or text (319)231-2382
AUGUST 2020
Sturgis Motorcycle Rally Event for Stop Soldier Suicide
JUNE 2020
J&P Cycle event for Stop Soldier Suicide
SPRING/SUMMER 2020
Statewide Bags Tournament & Bag Olympics
April 2020
American Brawn HEROES Gala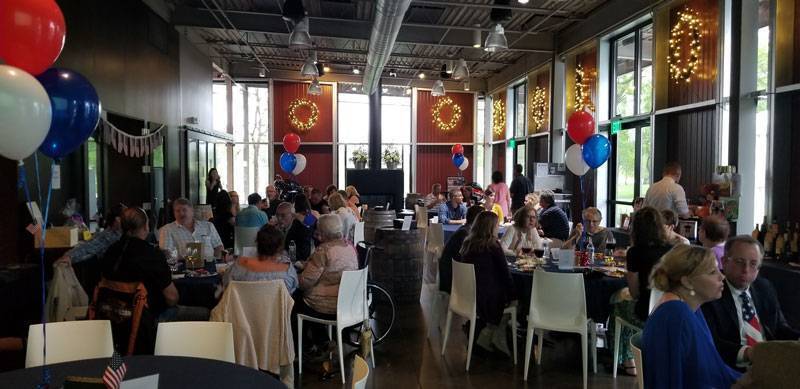 The 2020 HEROES Gala was converted to a Virtual affair due to the impacts of the CORONA-19 Pandemic. A Facebook-Live presentation and auction were held. Many auction items were donated and "attendees" generously bid on the items throughout the event. This fundraiser celebrating the women and men in our military and first responder departments is held annually to respectfully pay tribute to the amazing United States of America's Veterans, Military Personnel and First Responders and includes the honorable presence of many of those we are paying tribute to.
December 14, 2019
Living Our Lives Forum on Suicide Awareness and Prevention